VMware 1v0-81-20 practice test
Associate VMware Security Exam
Question 1
Which network virtualization technologies can be used with an Ethernet VPN (EVPN) deployment in
NSX-T Data Center? (Choose two.)

A. Virtual Extensible Local Area Network (VXLAN)
B. Multiprotocol Border Gateway Protocol (MP-BGP)
C. Open Shortest Path First (OSPF)
D. Multiprotocol Label Switching (MPLS)
E. Virtual Routing and Forwarding (VRF)
Answer:
AE
Question 2
Which shell command line syntax represents less suspicious danger than the others?

A. sc create
B. -Enc
C. clear
D. net user
Answer:
C
Question 3
When filtering firewall rules after selecting an object to filter by, which four columns does the filter
search? (Choose four.)

A. Services
B. Action
C. Protocol
D. Log
E. Applied To
F. Source
G. Destinations
Answer:
A, E, F, G
Reference:
https://docs.vmware.com/en/VMware-NSX-T-Data-Center/3.1/administration/GUID-BF564729-868B-4136-9AD0-857C47078FB3.html

Question 4
DRAG DROP
Drag and drop the Cyber Kill events on the left into their proper sequential order on the right.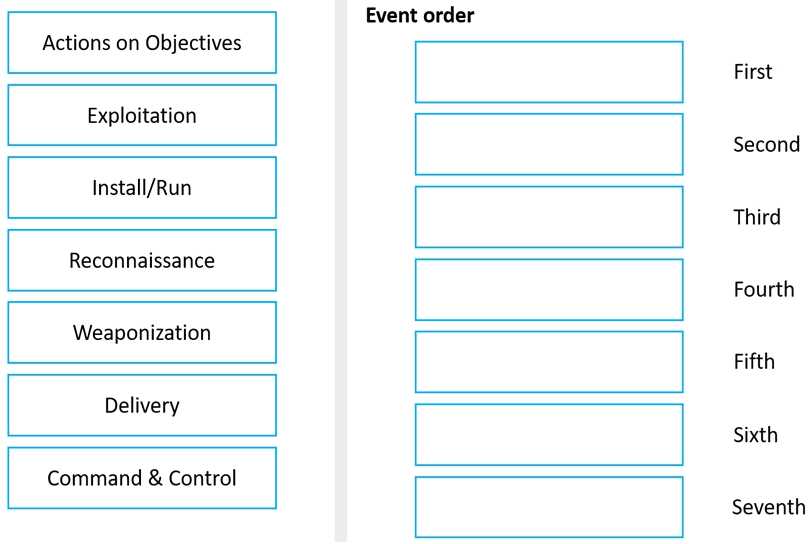 Answer:
Question 5
Which Workspace ONE feature incorporates network range, device platform, and authentication
method into decision making when evaluating an access request from a user?

A. Sensors
B. Compliance Policies
C. Access Policies
D. Restriction Profiles
Answer:
C
Reference:
https://techzone.vmware.com/resource/what-workspace-one

Question 6
In VMware Carbon Black Cloud, which two of these statements are true of the Permissions section of
the Prevention tab under Policies? (Choose two.)

A. assigns access rights to specific applications
B. deny or close Applications or Actions
C. take precedence over blocking and isolation
D. allows specific operations or applications
E. assigns access rights to specific individuals
Answer:
A, D
Question 7
Which three are VMware Workspace ONE SDK capabilities? (Choose three.)

A. data loss prevention
B. find my device
C. single sign-on
D. geofencing
E. application blacklist
Answer:
A, C, D
Explanation:
Reference:
https://docs.vmware.com/en/VMware-Workspace-ONE-UEM/services/VMware-Workspace-ONE-SDK-for-iOS-(Swift)/GUID-AWT-KS-SDK-IOSSWIFT-CAPABILITIES.html

Question 8
Which attack technique probes the environment for openings on devices or the firewall?

A. Port Scan
B. Denial of Service
C. Living off the Land
D. Phishing
Answer:
A
Question 9
In VMware Carbon Black Cloud, what is the search field you would use when searching for a
command line?

A. command_line:
B. full_cmdline:
C. process_cmdline:
D. process_commandline:
Answer:
D
Reference:
https://docs.vmware.com/en/VMware-Carbon-Black-Cloud/services/carbon-black-cloud-
user-guide.pdf
(29)

Question 10
DRAG DROP
Match each Workspace ONE Intelligence Security Risk Module tab on the left with its description on
the right by dragging the tabs name into the correct box.


Answer: