Veritas vcs-257 practice test
Administration of Veritas InfoScale Storage 7.1 forUNIX/Linux Exam
Question 1
Which Veritas InfoScale Storage snapshot technology enables creating the snapshot volume in a
different disk group than the original volume for the purpose of simplifying off-host processing?

A. full-sized instant snapshots
B. space-optimized instant snapshots
C. third-mirror break-off snapshots
D. linked break-off snapshots
Answer:
D
Explanation:
However, unlike full-sized instant snapshots, this volume can be set up in a different disk group from
the data volume. This makes linked break-off snapshots especially suitable for recurring off-host
processing applications as it avoids the disk group split/ join administrative step

Question 2
Which two commands can an administrator use to remove the datadg02 disk from the datadg disk
group based on the following configuration? (Select two.)


A. vxdg
B. vxdiskunsetup
C. vxplex
D. vxdisk
E. vxvol
Answer:
A,C
Explanation:
datadg02 hosts plex data-02 and we need to remove this submirror first and then we can remove the
dm from dg.

Question 3
CORRECT TEXT
How many days does an administrator have to either enter a valid license key or register a system
with Veritas InfoScale Operations Management server if they have chosen to use keyless licensing
during the installation of Veritas InfoScale Storage for UNIX/Linux?

Answer:
60 days
Question 4
What is the architecture of Veritas Cluster Volume Manager (CVM)?

A. physical and logical
B. primary and secondary
C. master and slave
D. server and client
Answer:
C
Question 5
Refer to the exhibit.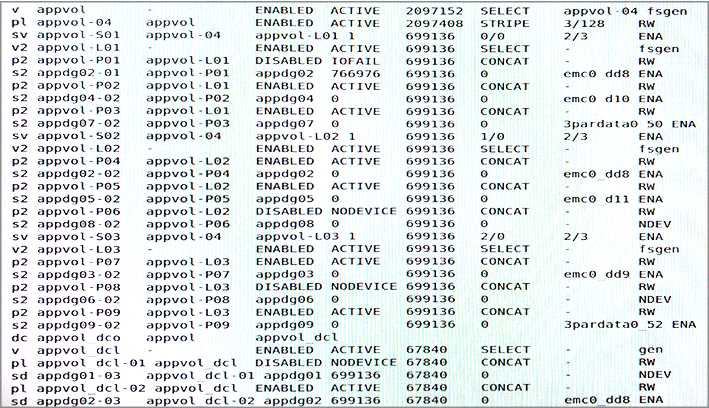 The appvol volume contains a file system and is mounted to /app. The volume has experienced
multiple disk failures.
What is the state of the data on the mounted file system?

A. unavailable
B. read-only
C. partially available
D. fully accessible
Answer:
D
Question 6
Which command attempts to repair a missing disk access records by finding the name of the device
in the private region and matching it to an existing disk media record?

A. vxmend
B. vxdctl
C. vxreattach
D. vxrecover
Answer:
C
Question 7
An administrator suspects that file creation performance is degraded in several directories on a
Veritas file system.
Which command should the administrator use to analyze directory organization?

A. fsadm
B. fsmap
C. fsfrag
D. fsppadm
Answer:
A
Question 8
Which log type makes a FastResync enabled snapshot of a mirrored volume persistent?

A. Data Change Map
B. Data Change Object
C. Storage Replicator Log
D. Dirty Region Log
Answer:
B
Question 9
Which command resizes the file system without changing the volume size?

A. vxfsconvert
B. vxresize
C. fsadm
D. vxfsadm
Answer:
C
Explanation:
https://sort.symantec.com/public/documents/vis/7.0/aix/productguides/html/sf_admin/
ch07s05s01.htm
vxresize can resize vxfs only during volume resize operation

Question 10
Which command should an administrator use to determine whether a SmartTier file placement
policy is assigned to a file system?

A. fsvmap
B. fsvoladm
C. fsadm
D. fsppadm
Answer:
D