palo alto networks pccsa practice test
Palo Alto Networks Certified Cybersecurity Associate
Last exam update: Nov 30 ,2023
Page 1 out of 6 Viewing questions 1-15 out of 79
Question 1
DRAG DROP
Match the attack definition to the type of security method used to protect against the attack.
Select and Place:


Answer:

Question 2
When accessing an intranet website, a certificate error is received. What can be done to move past the certificate error and
ensure that the error is not received the next time the website is accessed?

A. install the website certificate into the web browser
B. request trusted access from the web developer
C. enable TLS 2.0 in the advanced options of the web browser
D. trust the web developer for the application
Question 3
Which security component should be used to prevent a malware attack delivered by USB drive?

A. endpoint security
B. password security
C. physical security
D. firewall security
Question 4
How does machine learning enhance WildFire operation?

A. analyzes file sample characteristics during static analysis
B. determines which file samples should be forwarded to WildFire
C. determines the optimum OS WildFire uses to analyze file samples
D. analyzes file sample characteristics during dynamic analysis
Question 5
Which two components are part of a next-generation firewall security policy? (Choose two.)

A. role-based access controls
B. user identification
C. content identification
D. file permissions
Question 6
Which device would an Evil Twin attack use to lure the victim to connect to the attack surface network?

A. switch
B. firewall
C. router
D. access point
Question 7
Which type of cloud computing service provides access to email and word processing applications running in a cloud
infrastructure?

A. software as a service
B. computing as a service
C. platform as a service
D. infrastructure as a service
Question 8
Which type of malware is self-replicating but must first infect a host program and be executed by a user or process?

A. vulnerability
B. worm
C. exploit
D. virus
Question 9
Which network method securely connects two sites across a public network?

A. VPN
B. VLAN
C. switch
D. router
Question 10
Which component of a digital certificate provides authentication of the certificate's issuer?

A. digital signature
B. certificate revocation list
C. issuer's private key
D. certificate's expiration date
Question 11
What does a hypervisor enable?

A. high-speed searching of already aggregated security log files
B. high-speed aggregation and viewing of security log files
C. multiple physical machines to be configured into a high-performance cluster
D. multiple guest operating systems to run on a single physical machine
Question 12
DRAG DROP
Match the OSI network model Layer 3 function to the correct description.
Select and Place: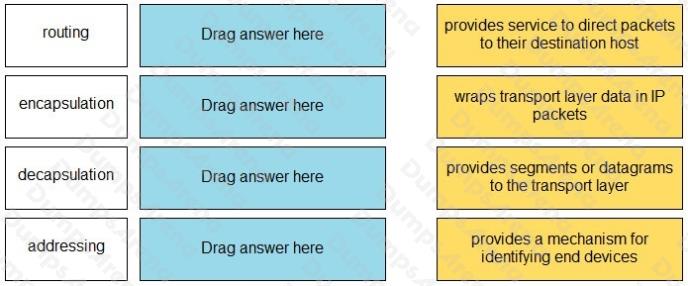 Answer: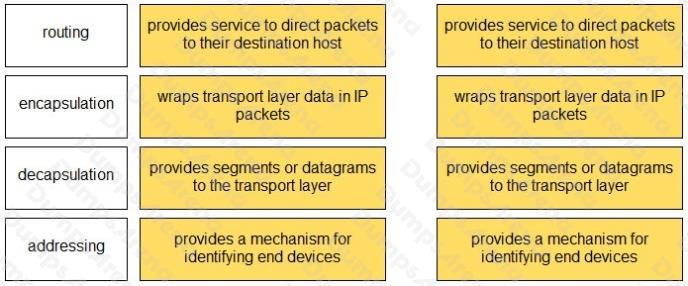 Question 13
Which two remote access methods are secure because they encrypt traffic? (Choose two.)

A. IPsec-AH
B. SSH
C. VPN
D. Telnet
E. rlogin
Question 14
Which type of adversary would commit cybercrimes with the authorization of their country's government?

A. state-sponsored
B. hacktivist
C. gray hat
D. white hat
Question 15
Which protocol converts voice into a digital signal?

A. IVO
B. VoIP
C. SNMP
D. IGMP