Nutanix nca-5-15 practice test
Nutanix Certified Associate (NCA) 5.15 Exam
Question 1
When a VM generates I/O, which Nutanix component is serving the storage request?

A. Hypervisor
B. Prism
C. HDD disks
D. CVM
Question 2
Refer to the exhibit.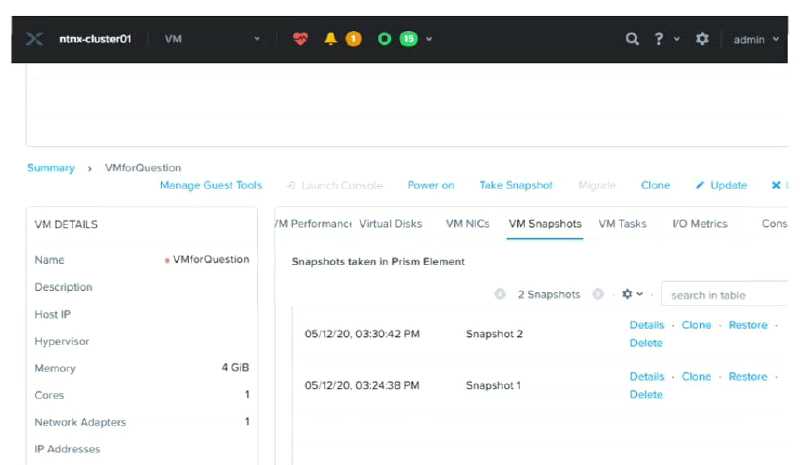 Management has tasked an administrator to restore the VM, VMforQuestion to a previous point in
time (3:20pm), to recover from a corrupted set of files.
Which snapshot should the administrator choose, and which action(s) should be executed?

A. Snapshot 2 Details review restore points. then Clone
B. Snapshot 2 Restore
C. Snapshot 1, Restore
D. Snapshot 1 Details, review restore points. then Clone
Question 3
An administrator is upgrading a current three-node Nutanix cluster with new HCI nodes. Currently,
the environment is based on a Single two-unit chassis hosted in one cabinet.
By simply changing the system form factor, what new level of resiliency may this customer achieve?

A. Rack awareness
B. Block awareness
C. Metro Availability
D. Better replication factor
Question 4
An application owner had reported that an AHV-based critical application VM is performing very
slowly. After initial diagnostics, it has been observed that the CPU utilization is significantly higher
than normal.
What two actions should the administrator take on this VM without shutting it down? (Choose two.)

A. Increase number of vCPU in Prism Element
B. Configure additional cores in acli
C. Ensure CPU hot-add is supported by the Guest O
D. Use PrismElement to increase the number of cores
Question 5
Which Nutanix concept is responsible for accommodating and remediating node failure scenarios?

A. Life cycle management
B. Auto resolve mode
C. Data locality
D. Self healing
Question 6
Refer to the exhibit.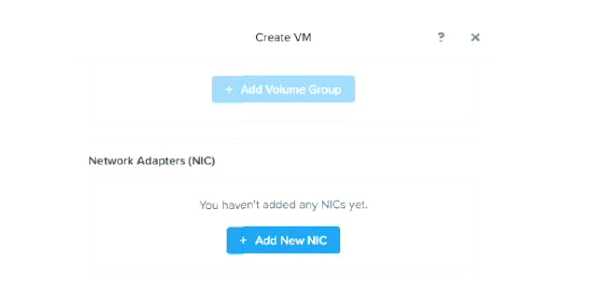 During VM creation, an administrator clicked on Add New NIC, but there is nothing in the Network
Name dropdown list. What is causing this issue?

A. No physical NICs have been allocated for user VMs
B. The nodes nave no NiCs attached to them
C. Only 1G NIC is attached to the Nutanix nodes
D. A network was not created during Network Configuration
Question 7
Which policy specifies that a selected VM will only run on a specific group of nodes?

A. Isolation
B. Anti-affinity
C. Affinity
D. Fixed
Question 8
A customer requires the ability to block all network traffic between their VDI VMs and their
application VMs running on their Nutanix AHV clusters.
What Nutanix product would meet this requirement?

A. Beam
B. Calm
C. Era
D. Flow
Question 9
Refer to the exhibit.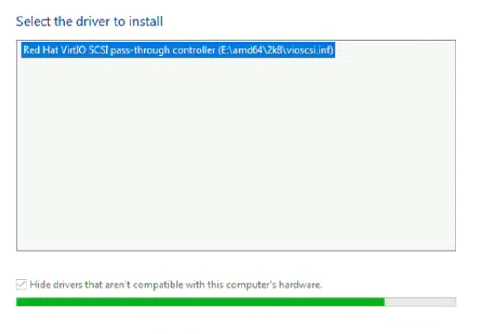 In which VM creation stage will the administrator see this dialog?

A. Upgrading Nutanix Guest Tools
B. During OS installation
C. During image sysprep
D. When powering on a UEFI VM
Question 10
Refer to the exhibit.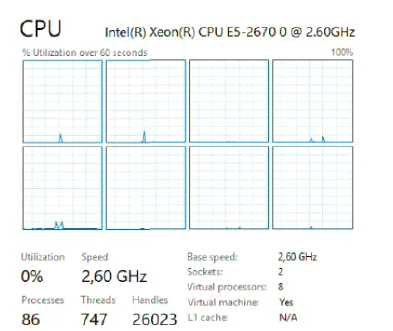 An administrator needs to upgrade a VM to 10 virtual processors. Which action should the
administrator take to complete this task?

A. Power-off the VM and add one vCPU
B. Update the VM adding two vCPUs
C. Update the VM adding two cores
D. Power-off the VM and add one core