NetSuite suitefoundation practice test
NetSuite SuiteFoundation Exam Exam
Question 1
HOTSPOT
Match the desired requirement to the most appropriate custom Field Type to use.
Answer options may be used more than once or not at all.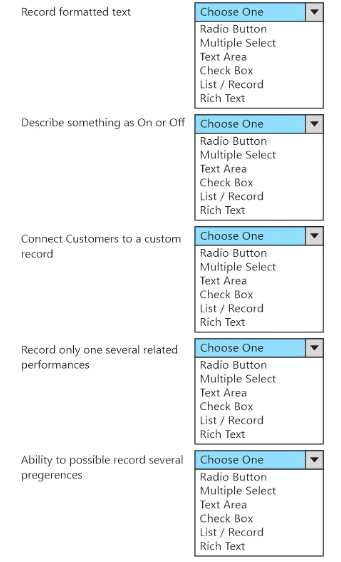 Answer:
None
Explanation: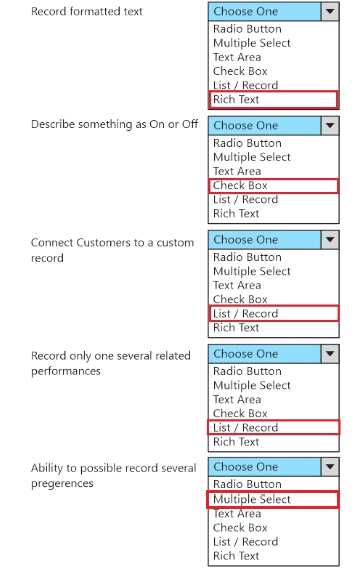 Question 2
Which statement is true about portlets?

A. The List portlet can be expanded to full-screen view.
B. The Available Reminders portlet is unlimited.
C. Custom Search portlet content automatically updates to the most recent data.
D. The Trend Graph portlet can allow up to one Key Performance Indicator only.
Answer:
A
Explanation:
Reference:
https://docs.oracle.com/cd/E60665_01/netsuitecs_gs/NSDBG/NSDBG.pdf
(10)

Question 3
How do you identify if a NetSuite record has scripts/workflows applied to it?

A. View the record and look under the Customization tab.
B. Customize the form and look under the Scripting tab.
C. Navigate to the Scripted Records page.
D. Use the Script Debugger.
Answer:
A
Explanation:
Reference:
https://www.proteloinc.com/blog/netsuite-workflows/

Question 4
Which transactions can be created from a Return Materials Authorization (RMA) using the Standard
Return Authorization Cash form?

A. Cash Sale
B. Item Fulfillment
C. Customer Refund
D. Cash Refund
Answer:
D
Explanation:
Reference:
https://netsuiteblogs.curiousrubik.com/customer-return-management-steps-in-netsuite

Question 5
If unable to access the NetSuite user interface, where can users go to find the current system status?

A. system.netsuite.com/status
B. netsuite.com
C. status.netsuite.com D. www.netsuite.com/status
Answer:
C
Explanation:
Reference:
https://www.fusion5.com.au/netsuite/blogs/the-netsuite-buyers-guide/

Question 6
Which action creates a duplicate of the current record, requiring a unique name for saving?

A. Save and New
B. Save and Copy
C. Save As
D. Save and Edit
Answer:
C
Question 7
When creating Item records, which item type does not require setting up an Income Account?

A. Assembly/Bill of Materials
B. Item Group
C. Kit/Package
D. Kit/Package Items
Answer:
B
Question 8
Which statement is true about Custom Roles?

A. It is not possible to change the Center Type of created Custom Roles.
B. Grant employees access from the Users subtab of a Custom Role record.
C. Custom Roles can be created through CSV Import.
D. It is not possible to make copies of a Custom Role.
Answer:
B
Question 9
Which New Release portlet resource allows users to watch presentations and demonstrations on
new features and enhancements in Suite Answers?

A. Training Resources
B. Sneak Peeks
C. Release Notes
D. Release Preview Test Plan
Answer:
A
Explanation:
Reference:
https://docs.oracle.com/en/cloud/saas/netsuite/ns-online-help/bridgehead_4338806257.html

Question 10
When creating a new Employee record, a user is unable to change the value in the Job Title field.
What could be the cause?

A. Field Sourcing is not set.
B. Store Value is unchecked.
C. The field is set to Inactive.
D. Field Display Type is set to Inline on the custom form.
Answer:
C