ITIL itilfnd-v4 practice test
ITIL 4 Foundation
Last exam update: Nov 30 ,2023
Page 1 out of 25 Viewing questions 1-15 out of 369
Question 1
What is defined as a change of state that has significate for the management of an IT service?

A. Event
B. Incident
C. Problem
D. Known error
Question 2
What is the primary focus of business capacity management?

A. Management, control and prediction of the performance, utilization and capacity of individual elements of IT technology
B. Review of all capacity supplier agreements and underpinning contracts with supplier management
C. Management, control and prediction of the end-to-end performance and capacity of the live, operational IT services
D. Future business requirements for IT services are quantified, designed, planned and implemented in a timely fashion
Question 3
What is the purpose of the 'relationship management' practice?

A. To establish and nurture the links between the organization and its stakeholders
B. To align the organization's practices and services with changing business needs
C. To set clear business-based targets for service performance
D. To support the agreed quality of a service handling all agreed, user-initiated service requests
Question 4
Which process works with incident management to ensure that security breaches are detected and logged?

A. Change management
B. Service level management
C. Access management
D. Continual service improvement
Question 5
What impact does automation have on a service desk?

A. Less low level work and a greater ability to focus on user experience
B. Increased phone contact and a reduced ability to focus on user experience
C. Ability to work from multiple locations, geographically dispersed
D. Ability to work from a single centralized location
Question 6
What helps diagnose and resolve a simple incident?

A. Rapid escalation
B. Formation of a temporary team
C. The use of scripts
D. Problem prioritization
Question 7
Which statement about emergency changes is CORRECT?

A. Emergency changes are low risk and well understood
B. Emergency changes are not usually recorded in the change schedule
C. It is necessary to complete all documentation before an emergency change is implemented
D. Authorization of emergency changes may be deferred until after implementation
Question 8
Which is included in the purpose of the 'service level management' practice?

A. To maximize the number of successful service and product changes
B. To ensure accurate information about the configuration of services is available
C. To set clear business-based targets for service levels
D. To ensure that suppliers and their performance are managed appropriately
Question 9
Which practice helps to ensure that the services delivered to customers are aligned with their needs?

A. Service request management
B. Change enablement
C. Service level management
D. Problem management
Answer:
C
Explanation:
Reference: https://www.bmc.com/blogs/itil-change-enablement/

Question 10
Which is an objective of the design coordination process?

A. To produce service design packages and ensure they are handed over to service transition
B. To assess and evaluate all changes and their impact on service designs
C. To document the initial structure and relationship between services and customers
D. To gather and document new service level requirements from the customer
Question 11
When should a workaround be created?

A. As soon as possible, once the incident is logged
B. After the resolution of a problem
C. When a problem cannot be resolved quickly
D. When a potential permanent solution has been identified
Answer:
C
Explanation:
Reference: https://www.globalknowledge.com/us-en/resources/resource-library/articles/incidents-and-problems-
workarounds/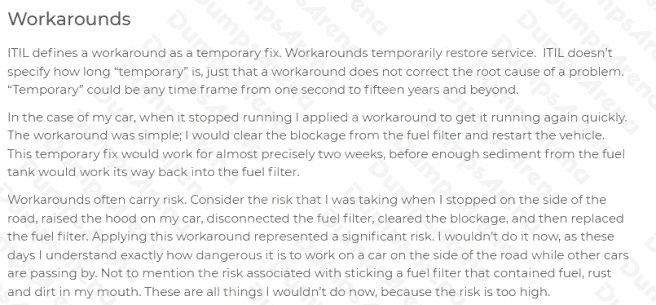 Question 12
Which is a key requirement for successful service level agreements (SLAs)?

A. They should be based on system-based metrics which are useful to the service provider
B. They should be written using language and terms which all parties will understand
C. They should be carried forward, unchanged, from one year to the next to enable consistent service
D. They should avoid ambiguous targets such as those relating to user experience
Question 13
What is a service?

A. A possible event that could cause harm or loss, or make it more difficult to achieve objectives
B. A means of enabling value co-creation by facilitating outcomes that customers want to achieve, without the customer having to manage specific costs and risks
C. A tangible or intangible deliverable of an activity
D. Joint activities performed by a service provider and a service consumer to ensure continual value co-creation based on agreed and available service offerings
Answer:
B
Explanation:
Reference: https://www.bmc.com/blogs/itil-key-concepts-service-management/

Question 14
Which statement about problems is CORRECT?

A. Problems are not related to incidents.
B. Problems must be resolved quickly in order to restore normal business activity.
C. Problem analysis should focus on one of the four dimensions to achieve a fast diagnosis.
D. Problem prioritization involves risk assessment.
Answer:
B
Explanation:
Reference: https://www.bmc.com/blogs/itil-problem-management/

Question 15
Which activity is NOT recommended by the 'start where you are' guiding principle?

A. Applying risk management when considering to introduce new processes
B. Discarding existing processes before assessing their usefulness
C. Involving people who are not familiar with a service when observing and assessing its activities
D. Using service data to avoid any unintentional data distortion found in reports