IBM s1000-009 practice test
IBM PowerVC V2.0 Administrator Specialty Exam
Question 1
On PowetVC for Private Cloud, which action can be performed by a user with the vm_user role?

A. attach and detach volumes
B. view users and groups
C. start, stop, and restart the VM
D. deploy a VM from an image
Question 2
What does the powervc-diag command do?

A. It collects diagnostic data from management nodes, all HMCs, all NovaLink and all network nodes.
B. It collects specific logs from the VIOS.
C. It performs a full system health check.
D. It displays version information of PowerVC, NovaLink and the host operating system.
Answer:
A
Explanation:
https://www.ibm.com/docs/en/powervc/2.0.0?topic=problems-powervc-diag-command

Question 3
A user in a private cloud environment wishes to send multiple expiration date extension requests for
the same virtual machine. Which statement is true?

A. if there's a pending request, the user would have to delete the request before sending a new request
B. the user can send as many expiration-date modification requests for the same virtual machine as desired
C. the user must get administrator permission to make an expiration-date modification request
D. the user can only send three expiration-date modification requests for the same virtual machine before approval
Question 4
What are two requirements to use the PowerVC CSI pluggable driver?

A. Red Hat Enterprise Linux CoreOS (RHCOS) image in PowerVC
B. IBM Spectrum Protect
C. Red Hat OpenShift Container Platform
D. PowerVC with storage provider
E. IBM Cloud Object Storage (COS)
Question 5
Which option allows you to bring existing virtual machines to PowerVC?

A. create VM under 'Image list'
B. import VM under host's properties
C. 'Manage existing' under 'Host list"
D. migrate VM command from the HMC
Answer:
B
Explanation:
http://gibsonnet.net/blog/cgaix/html/Managing%20an%20existing%20AIX%20virtual%20machine%20with%20PowerVC.html

Question 6
DRAG DROP
Select all that apply
What is the correct sequence of steps to install a fix pack to PowerVC?


Answer:
None
Explanation: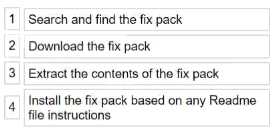 Question 7
What does the terraform state show command do?

A. The command does a preview of the state before applying changes
B. The command is used to list all resources in PowerVC
C. the command is used to inspect the current state of a specific resource
D. the command is used to apply the changes required to reach the desired slate of the VM configuration
Answer:
A
Explanation:
https://www.terraform.io/cli/commands/state/show

Question 8
What are Storage connectivity groups (SCG) used for? Select three.

A. SCGs define for which operating systems (AIX, Linux, IBM i} this SCG can be selected
B. SCGs define which projects have access to the storage C SCGs define the VIOS that can be used when selecting this SCG
D. SCGs define how many VIOS should be used to connect the VM to the storage
E. SCGs define the multi-pathing algorithm that should be used
F. SCGs define the connection of a VM to the storage for boot and data volumes (vSCSI or NPIV)
Question 9
What is true about the administrator assistant role?

A. The administrator assistant role is part of PowerVC for Private Cloud to manage cloud related tasks.
B. The administrator assistant has similar privileges as an administrator, but is not allowed to do remove or delete operations.
C. An administrator assistant role has (he same privileges as an administrator but cannot JTs logged- in al the same time as an administrator.
D. An administrator assistant has all privileges, but an administrator must approve the tasks before these will be executed.
Question 10
After the installation of PowerVC, which of these directories houses the PowerVC configuration and
database files?

A. /opt/ibm/powervc
B. /ibm/powervc
C. /root/ibm/powervc
D. /lib/powervc