IBM c1000-087 practice test
IBM Certified Solution Architect - Cloud Pak for Applications V4.1 Exam
Question 1
Which Red Hat runtime is supported in Cloud Pak for Applications?

A. rkt
B. Red Hat Ceph Storage
C. Node.js
D. GlusterFS
Answer:
B
Question 2
To change the default deployment options created by Transformation Advisor, which file in the
migration bundle needs to be modified?

A. application-crd.yaml
B. pom.xml
C. server.xml
D. Dockerfile
Answer:
C
Question 3
Which two statements are true about IBM Cloud Pak for Applications?

A. IBM Cloud Pak for Applications monitors running application for container mutations
B. Accelerator for Teams assesses and recommends runtime changes to fit the functional and non- functional requirements of the business application
C. IBM Cloud Pak for Applications entitlements allows deploying the IBM and Red Hat runtimes on top of OpenShift only
D. IBM Cloud Pak for Applications helps migrate traditional WAS ND applications into Liberty or WAS Base container in OpenShift
E. IBM Cloud Pak for Applications supports applications running on different runtimes
Answer:
CD
Question 4
What are two of the day 2 operation requirements for service management in a cloud native
reference architecture?

A. Key management
B. Authorization
C. Logging
D. Distributed tracing
E. Authentication
Answer:
AE
Question 5
What are two tools provided by IBM Cloud Continuous Delivery for any DevOps toolchain?

A. Visual Studio Code Web IDE
B. Delivery Pipeline
C. Application Runtime
D. Git-based repo integration
E. Integration Manager
Answer:
AB
Explanation:
https://cloud.ibm.com/docs/ContinuousDelivery?topic=ContinuousDelivery-devops_intro

Question 6
What practice allows deploying microservices on OpenShift by applying agile practices through
automation and improving efficiency on Cloud Pak for Applications?

A. Cloud native application development
B. Agile architecture
C. Application program management
D. DevOps
Answer:
A
Question 7
Knative Serving defines a set of objects as Kubernetes Custom Resource Definitions (CRDs). These
objects are used to define and control how a serverless workload behaves on the cluster.
Which combination of knative resources fits to the diagram?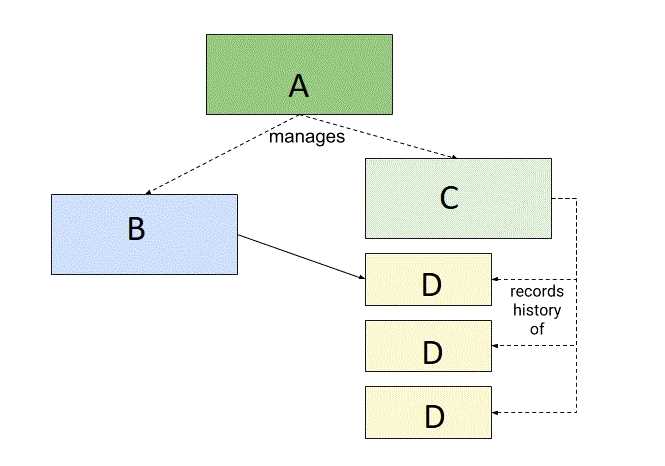 A. A = Configuration, B = Service, C = Revision, D = Route
B. A = Revision, B = Route, C = Service, D = Configuration
C. A = Route, B = Service, C = Configuration, D = Revision
D. A = Service, B = Route, C = Configuration, D = Revision
Answer:
D
Question 8
What are two principles for developing cloud-native applications?

A. WebSphere Low Level Entity
B. Maven single package
C. Image immutability
D. JavaScript module
E. Single concern
Answer:
CE
Explanation:
https://www.ibm.com/cloud/architecture/architecture/practices/cloud-native-principles

Question 9
Which two components are included in Red Hat Runtimes for IBM Cloud Pak for Applications?

A. JBoss Elastic Compute
B. JBoss Web Server Network Deployment
C. JBoss Web Server
D. JBoss Enterprise Application Platform
E. Red Hat OpenStack
Answer:
DE
Question 10
What integrated WebSphere Application Server (WAS) administrator console tool is included in
Cloud Pak for Applications that enables analysis of application and provides a report of issues,
warnings, and best practices for moving them to WebSphere Liberty?

A. Binary Scanner
B. Liberty Readiness Analysis
C. Transformation Advisor
D. WAS Migration Toolkit
Answer:
C