HP hpe6-a72 practice test
Aruba Certified Switching Associate Exam Exam
Question 1
DRAG DROP
Place the OSI Layers in the correct order. Arrange them from least to greatest, starting with Layer 1 on
the top, and progressing to Layer 7 on the bottom.


Answer: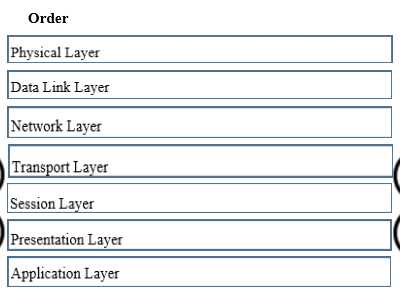 Question 2
Refer to the exhibit.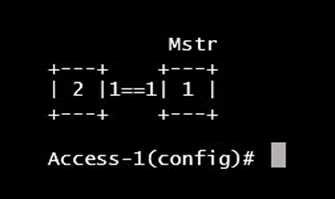 What VSF command produces the above output?

A. show vsf member
B. show vsf link
C. show vsf topology
D. show vsf detail
Answer:
C
Reference:
https://techhub.hpe.com/eginfolib/Aruba/OS-CX_10.04/5200-6790/index.html#GUID-88F65EB4-C1F9-49C7-9FB2-F994AB9D0D8F.html

Question 3
What are two available options as part of a DHCP offer message? (Choose two.)

A. SSID
B. DNS server IP
C. Subnet Mask
D. LLDP-MED
E. VLANID
Question 4
Refer to the exhibit.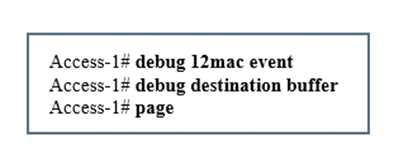 What command will display the debug l2mac events?

A. show module L2MAC
B. show debug terminal
C. show debug buffer module L2MAC
D. show debug all
Question 5
Refer to the exhibit.



Switch-1 is not the root bridge. The ports shown are all the connected pointtopoint interfaces. What
Role (hidden by the blue rectangle) will be assigned to the Lag 1 interface?

A. Alternate
B. Backup
C. Root
D. Designated
Question 6
Which option correctly describes a WAN network?

A. a group of computer resources that communicates between geographically separate location
B. the connection between two separate buildings in the same campus
C. a network of devices over long distances but limited to within a single ISP
D. compute resources that are networked locally over wireless
Question 7
With what other technology does Half Duplex communication closely match?

A. a pair of fiber optic strands allowing transmit on one and receive on the other at the same time
B. a mobile phone call
C. point-to-point connections between two switches allowing concurrent transmit and receive
D. CB radio using push-to-talk
Question 8
Which field in the IPv4 header indicates whether the IP packet carries TCP or UDP traffic?

A. Protocol
B. IHL
C. TTL
D. Identification
Question 9
Which two statements accurately describe stacking with Aruba switches? (Choose two.)

A. A VSF stack is allowed between an AOS-CX 6300M and 6300F switches.
B. VSF is a core or aggregation layer stacking technology due to the high resiliency of sharing a single control plane.
C. The VSF feature is not compatible between AOS-CX and AOS platforms.
D. A VSF stack is allowed between an AOS 5400R and an AOS-CX 6400.
E. VSF and VSX are stacking option with the AOS-CX 8320. 8325. 8400. and 6400 models.
Question 10
Refer to the exhibit.



What is the correct binary conversion of the last two hexadecimal characters of the physical address?

A. 1101 1000
B. 1110 1101
C. 1001 1111 0101 0011
D. 1000 1101 1110 1101