HP hpe6-a70 practice test
Implementing Aruba WLAN (IAW) 8.4 Exam
Question 1
Refer to the exhibit.



Which role must AP 1 play?

A. Remote AP (RAP)
B. Mesh Portal AP
C. Instant AP (IAP)
D. Mesh Point AP
Question 2
Refer to the exhibit.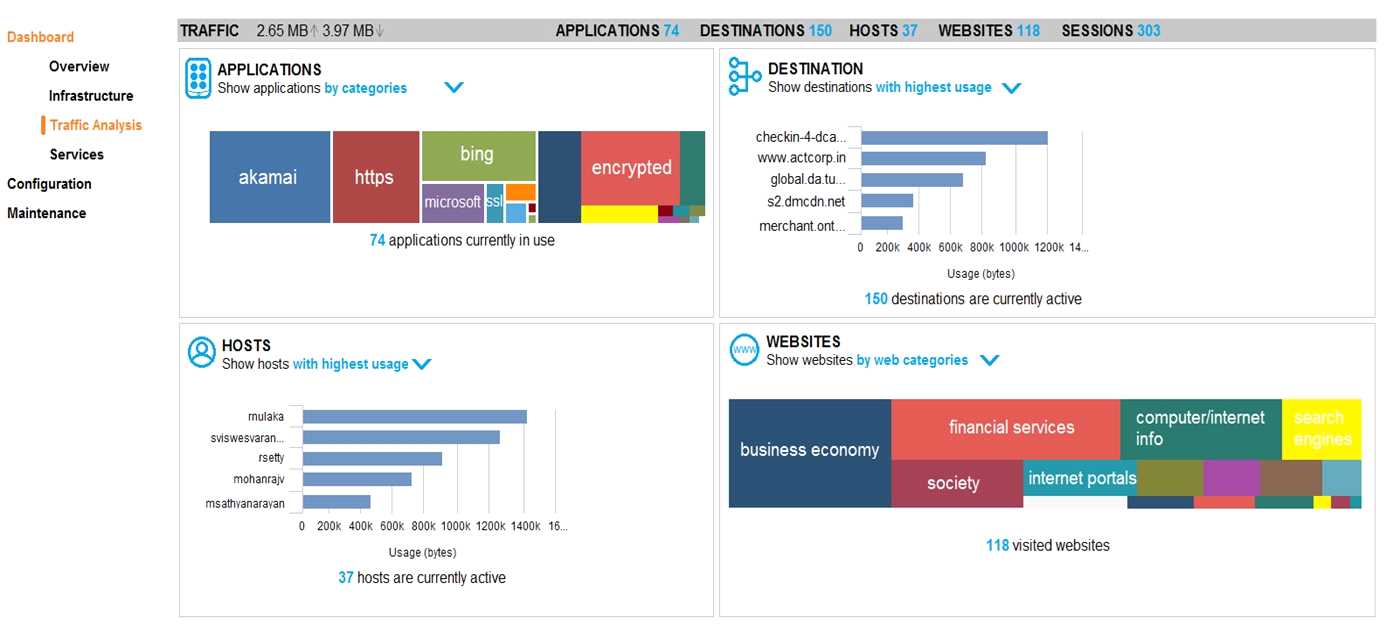 The exhibit shows output from a Mobility Master (MM) dashboard. What is a valid reason for the
administrator to click the akamai square under applications?

A. to see the break down for only the roles, destinations, WLANs, and devices that use this application
B. to download a report about the usage of this application over time
C. to create filter rules in order to control wireless user access to this application
D. to set up bandwidth rule in order to control wireless user access to this application
Question 3
A customer has a large campus that requires 400 Aruba 335 APs to support a total of 20,000 wireless
users and 12Gbps of traffic. Although the customer wants two controllers for redundancy, each
controller must be able to support all of the APs and users on its own.
Which Aruba Mobility Controller models meet the customer requirements and DO NOT
unnecessarily exceed them?

A. Aruba 7024 controllers
B. Aruba 7210 controllers
C. Aruba 7240 controllers
D. Aruba 7030 controllers
Question 4
Which IEEE standard provides the highest transmission rates in the 5.0GHz frequency band?

A. 802.11a
B. 802.11ac
C. 802.11g
D. 802.11n
Question 5
A company has an Aruba solution with a guest WLAN named exam_guest. A network administrator
creates the guest WLAN with the wizard and does not change any of the default roles. The
authentication server does not send particular role assignments for authorized users. The company
wants to deny guest access to specific IP rnages after the guests authenticate.
For which role should the administrator create the rule to deny this traffic?

A. exam_guest-guest-logon
B. authorized
C. guest-logon
D. guest
Question 6
A company currently uses 802.11ac Wave 1 as a wireless solution. They want to upgrade to 802.11ac
Wave2.
Which new feature will now be available with this upgrade?

A. band steering
B. multiple spatial streams
C. 40MHz channel bonding
D. multi-user MIMO (MU-MIMO)
Question 7
A company has many 7220 controllers in its Aruba wireless architecture. A network administrator
wants to use the Traffic Analysis dashboard in order to monitor which type of applications is being
used by wireless users.
What is required for this implementation?

A. Airmatch and ClientMatch must be enabled.
B. The solution must have active PEFNG licenses.
C. Firewall policies must include application filtering rules.
D. WLANs must use the decrypt-tunnel forwarding option.
Question 8
A company has a Mobility Master (MM)-based solution. A network administrator wants to monitor
data transfer speed ranges of all currently connected clients.
Which dashboard page in the MM interface should the administrator visit?

A. Security
B. Performance
C. Traffic Analysis
D. Network
Question 9
An Aruba solution has a WLAN that uses WPA2-Personal security. How are encryption keys
dynamically managed for the wireless users?

A. The MM generates and distributes keys to clients and access points (APs).
B. Administrators configure identical key strings on the Mobility Controllers (MCs) and wireless client 802.1X settings.
C. Keys are generated and distributed securely during each wireless user authentication process.
D. Keys are derived from the preshared key configured on the WLAN and on each wireless client.
Question 10
For which use case should network administrators set up Aruba access points (APs) as multi-zone
APs?

A. The company has multiple small branch offices where APs at each branch office must forward internet traffic locally and corporate traffic over a secure tunnel to a centralized Mobility Controller (MC).
B. The company has some devices that support both 5GHz and 2.4GHz, and the APs must operate in both frequency bands.
C. The company requires high availability for its wireless services, and APs must be able to be controlled by more than one Mobility Controller (MC) in case a controller fails.
D. The company has a Mobility Manager (MM)-based solution that requires APs to terminate to multiple controllers that reside in different administrative domains.