HP hpe2-t37 practice test
Using HPE OneView Exam
Question 1
You are deploying HPE OneView to manage a customer's HPE ProLiant servers
Is this statement about appliance availability true?

A. HA features for HPE OneView are enabled only if the appliance is deployed on an HPE SimpliVity cluster
B. HPE OneView has a built-in HA feature that can be activated with an additional license
C. HPE OneView availability relies on HA features provoed by the hypervisor
D. During hpe oneView deployment customer may select configure proprietary HA mode.
Answer:
C
Question 2
You plan to update HPE OneVew to the latest version
What Should you do Mora starting HPE OneView update?

A. Disable HPE Remote Support at toe HPE OneView appliance level
B. Put all servers managed through HPE OneView to maintenance state
C. Run the Update Readiness checker tool to evaluate HPE OneView health status
D. Create a support dump for the appliance and for all managed logical interconnects
Answer:
C
Question 3
Which statement about HPE OneView Global Dashboard is true?

A. It is an application that can be installed on Windows or Linux system that will provide automated discovery of HPE OneView instances
B. It is a plugin to HPE Oneview that will allow integration of HPE oneView with VMware management and monitoring components
C. It is a virtual appliance that can aggregate health and inventory information from multiple HPE OneView appliances or HPE Composers
D. It is a plugin to vCenter Server that will allow management of the components added to HPE Oneview from vCenter server interface
Answer:
C
Question 4
You are creating a Logical Interconnect Group (LIG) that will be used to configure SAS connectivity.
What is the maximum number of frames that can be inducted in this LIG?

A. 2 frames
B. 4 frames
C. 3 frames
D. 1 frame
E. 5 frames
Answer:
D
Question 5
Your customer plans to monitor HPE ProLiant DL systems and HPE BladeSystem using HPE OneView
Which license is required to accomplish this task?

A. HPE One View Global Dashboard license
B. HPE OneView Advanced license
C. HPE composer 2 license
D. HPE OneView standard license
Answer:
D
Question 6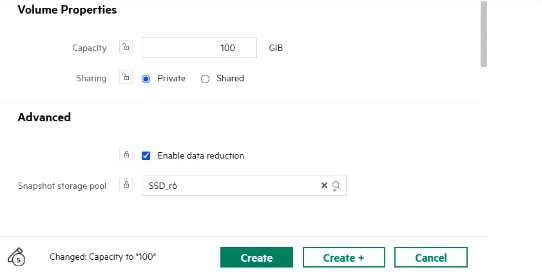 Which statement about the volume template is true?

A. Users will be able to change sharing type and volume capacity
B. A volume created using this template will not support deduplication
C. A volume created using this template mil not support snapshots
D. Users will be able to select storage pool during volume creation
Answer:
A
Question 7
Which statement about the presented storage pools is true?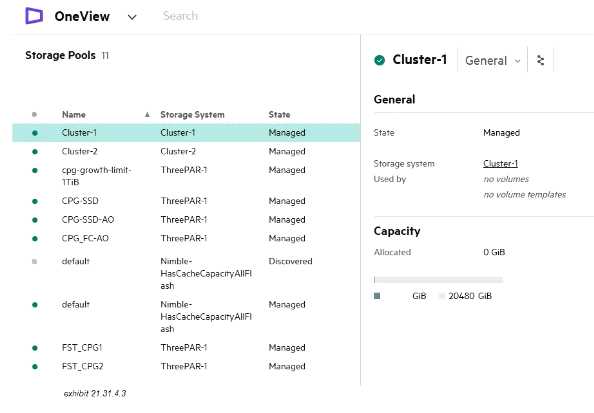 A. Storage pools in discovered state can be removed from HPE OneView.
B. HPE OneView can be used to configure replication only between managed storage pools
C. All storage pools from the system named ThreePAR-1 can be used for volume provisioning
D. All storage pools in managed state have a valid HPE OneView license applied
Answer:
C
Question 8
DRAG DROP
For each feature. indicate whether it is available with both hpe oneview Standard and hpe oneview
Advanced licenses, or only with an hpe oneview Advanced license.


Answer:
None
Explanation: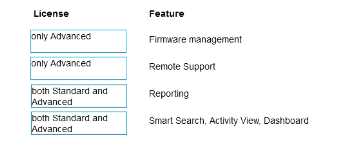 Question 9
what is required to add a remote frame to the primary management ring?

A. UUD of the remote HPE Composer
B. Serial number of one of the remote frames
C. Remote frame Link Module IPv6 address
D. Request code from the primary HPE Composer
Answer:
D
Question 10
HOTSPOT
You need to make sure that server ports connected to this network cannot communicate with each
other within the logical interconnect. Click the option within the network definition that will allow
you to configure the required parameter.

Answer:
None
Explanation:
Tagged