HP hpe2-k42 practice test
Designing HPE Nimble Solutions Exam
page 1 out of 3
Viewing questions 1-15 out of 40
Question 1
A customer wants to use VVols on its HPE Nimble array. What is a prerequisite?

A. FC connectivity to the array
B. AF-series arrays only
C. NCM for vsphere 6.0 or higher
D. HPE Nimble VMware Integration license
Question 2
What flash to disk ratio is typical for optimal read performance?

A. 20-25% flash capacity
B. 15-20% flash capacity
C. 10-15% flash capacity
D. 5-10% flash capacity
Question 3
The exhibit represents volume with a single snapshot.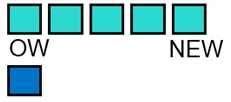 One new block has been written, and one existing block has been overwritten. What is the state of
block ownership?
A.



B.



C.



D.


Question 4
Which statements are true about HPE Nimble SNMP support? (Select two.)

A. The array can receive SNMP traps.
B. SNMP v3 is supported.
C. Arrays use the alert level setting for email alerts to determine the events that are sent as SNMP traps.
D. UDP traps are supported.
Question 5
What is the HPE Nimble grouping of volumes that share snapshot/replication schedules?

A. volume set
B. volume group
C. volume collection
D. consistency group
Question 6
Which firewall ports should be opened for HPE Nimble array for outbound access? (Select two.)

A. SNMP: 162
B. HTTP: 80
C. HTTPS: 443
D. SSH: 22
E. SSH: 2222
Question 7
Which Kind of licensing approach do HPE Nimble arrays use?

A. frame-based licensing
B. all-inclusive licensing
C. controller-based licensing
D. capacity-based licensing
Question 8
How can the two onboard Ethernet ports be configured on the controller? (Select two.)

A. Management only
B. Management + SMB
C. Management + iSCSI
D. Management + FCoE
Question 9
What is volume reserve?

A. It is the guaranteed minimum amount of physical space reserved for the volume.
B. It is mandatory for SSD wear leveling.
C. It enables sparing volume's data.
D. It is required for volume's snapshots.
Question 10
Which cipher does SmartSecure use?

A. DES
B. AES-256
C. AES-128
D. Salsa20
Question 11
Volume pinning is technology that is only available to which series of HPE Nimble arrays?

A. CS-Series
B. AF-Series
C. All series
D. CF-Series
Question 12
Which statement is correct about Zero copy clones? (Select two.)

A. It if a full copy of all data blocks for full performance.
B. it allows a volume to be created for online use, based on a snapshot.
C. it occupies no additional space until new data is written or changed
D. It is mandatory for customers requiring RPO = 0.
E. It is required for replication to a Secondary Flash Array's for optimal data protection.
Question 13
What are the differences between the CS1000H and other CS-Series models? (Select two.)

A. CS1000H supports 11 hard disk drives and 2 DFCs with only slot A of the DFCs populated.
B. CS1000H cannot be upgraded to CS1000FP.
C. CS1000H cannot be upgraded to CS1000.
D. CS1000FP consists of 2 RAID stripes.
Question 14
How are RAID groups organized for the disks in bank A and bank B in the AF-Series array?

A. They construct a single RAID group if types of disks match.
B. They construct a single RAID group without any conditions.
C. They construct a single RAID group if they are deployed together.
D. They are constructed into separate RAID groups
Question 15
DRAG DROP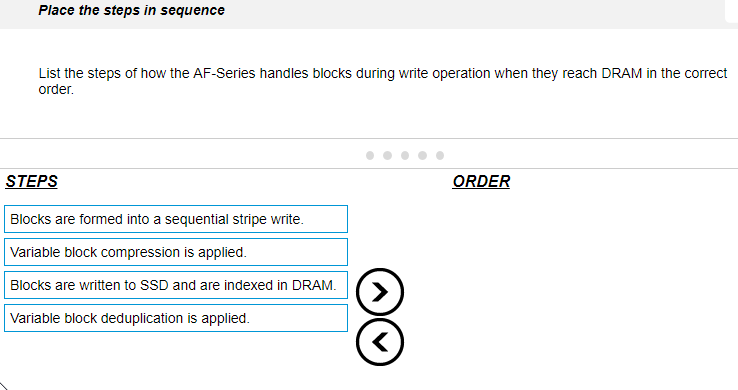 Answer: