HP hpe0-s57 practice test
Designing HPE Hybrid IT Solutions Exam
Question 1
A customer is placing a large order of HPE ProLiant DL380 servers with custom factory integration.
Which type of SKU should you use for this order?

A. LTO
B. TCO
C. CTO
D. BTO
Answer:
C
Question 2
HOTSPOT
You just finished building a complete solution for a customer in One Config Advanced (OCA). You
present it to the customer. The customer requires special packaging for the solution
Click in the exhibit of OCA where you can add special packaging instructions for the complete
solution.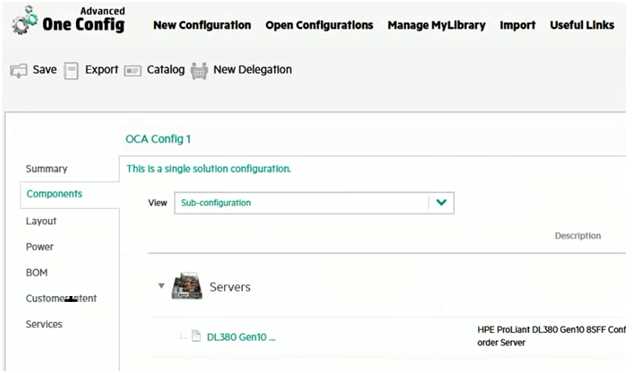 Answer: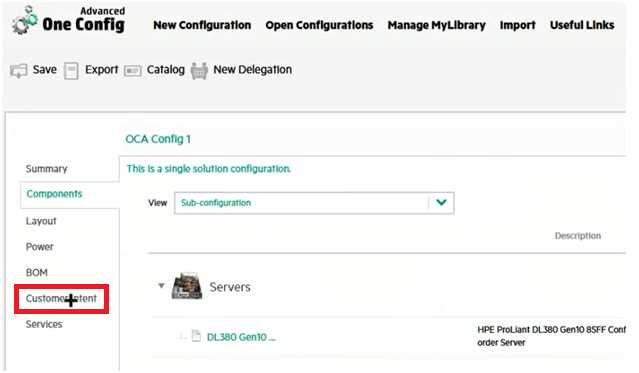 Question 3
A customer has the following HPE SlmphVity configuration.
4 nodes in 1 cluster - 2 x 16c CPU
384 GB RAM
Medium 4000 storage kit
SFP+ connectivity
VMware hypervisor
The customer needs to increase the available storage capacity in the configuration. What is the most
cost-effective solution that meets your customers needs?

A. Offload existing backups to an HPE StoreOnce backup target to free up space for production data
B. Add four "HPE SimpliVity 380 2 Processor Medium to Large Storage Upgrade E-LTU" storage expansion kits.
C. Add additional disks per node for the required capacity, and do a RAID expansion by using Smart Storage Administrator (SSA).
D. Add one HPE SimpliVity node with the same configuration to the cluster
Answer:
B
Question 4
You are demonstrating an HPE SimpliVity environment. You want to show the efficiency obtained on
the environment with the built-in deduplication and compression of the HPE SimpliVity solution for
that specific environment
Where should you go in the vSphere Web Client console to show this?

A. HPE SimpliVrty Federation - Virtual Machines
B. Cluster - Monitor - HPE SimpliVity Capacity
C. Cluster - Monitor - HPE SimpliVity Performance
D. HPE SimpliVity Federation - Datastores
Answer:
A
Question 5
Your customer wants to replace the company's aging infrastructure. The following compute
workloads must run on the selected compute platform for your solution
Physical Server workloads
Hyper-V Virtuailzation
VMware Virtualization
Containers
Which solution should you use to meet the customers needs?

A. HPE SimpliVity
B. HPE Hyperconvered 750
C. HPE Hyperconverged 250
D. HPE Synergy
Answer:
B
Question 6
A customer requests a compute platform to support combined OLTP and OLAP workloads Which
platform should you recommend?

A. Superdome Flex
B. ProLiant DL
C. ProLiant ML
D. Edgeline
Answer:
A
Question 7
A customer requires a hybnd storage solution capable of deduplicatlon. compression, and encryption
of all their dat
a. Which HPE storage product meets the customer's requirements?
A.HPE MSA 2052
B. HPE SimpliVity 380
C. HPE 3PAR 9450
D. HPE Nimble HF40

Answer:
B
Question 8
A customer needs all users to be authenticated before getting access to the network resources.
Which product should you recommend to meet this requirement?

A. ArubaClearPass
B. Aruba Central
C. Aruba Airwave
D. Aruba Introspect
Answer:
A
Question 9
A software development company is planning a Hybrid IT hardware platform that will make frequent
server repurposmg and automation easier
Which component should you recommend as part of the solution?

A. HPE infoSlght
B. NVMe Read Intensive SFF
C. HPE Synergy Image Streamer
D. MicroSD flash memory card
Answer:
C
Question 10
A customer wants to replace aging data center networking infrastructure with an agile, software-
defined solution that will enable them to ensure that mission-critical applications can always get
needed bandwidth
Which HPE solution should you recommend?

A. Composable Fabric Manager
B. Image Streamer
C. OfficeConnect
D. StoreFabric
Answer:
A