HP hpe0-j58 practice test
Designing Multi-Site HPE Storage Solutions Exam
Question 1
DRAG DROP
Match the HPE resource to Its source location.


Answer:
None
Explanation:


Question 2
A customer wants to create a single Nimble Storage SAN that provides both a Production primary
storage area and a Test/Dev storage area that win allow application volumes from the Test/Dev area
to be migrated to the Production area without disruption
What should you recommend''

A. Use two HPE Nimble storage Groups.
B. Use a single HPE Nimble Storage Croup pool, and use a backup application.
C. Use two HPE Nimble Storage Groups and a backup application
D. Use a single HPE Nimble Storage Group with two pools
Answer:
D
Question 3
A customer needs lo replace an existing Dell EMC backup-to-disk solution with an HPE solution to
integrate with an HPE 3PAR solution.
Which toot should you use lo begin your assessment of the customer environment?

A. HPE inToSight
B. DD Analyzer
C. SAF Analyse
D. Ninja Crawler
Answer:
C
Question 4
A customer needs a solution that will scale out with multiple arrays for replication and will guarantee
increased IOPS over the life of the solution.
Which HPE program should you leverage in your solution to help meet the customer's requirements?

A. HPE SimpliVity HyperGuarantee
B. HPE Store More Guarantee
C. HPE Nimble Timeless storage
D. HPE Get 6-Nines Guarantee
Answer:
C
Question 5
Refer to the exhibit.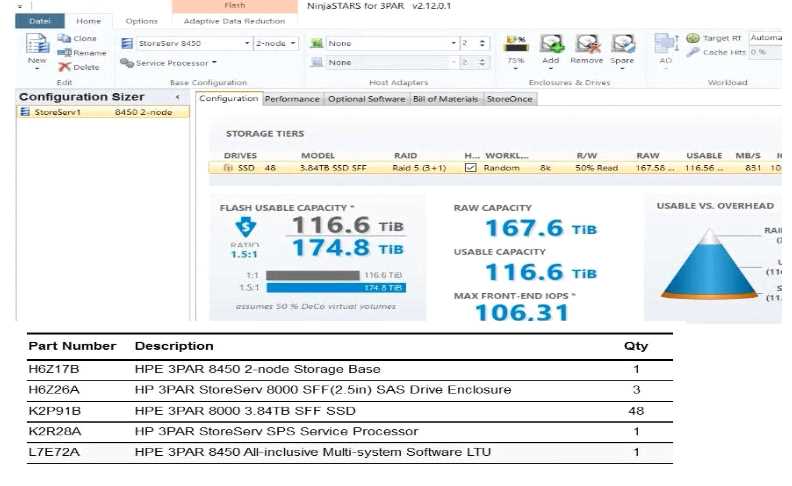 A customer requests a solution for two 3PAR 8450 storage arrays using synchronous replication. The
customer wants the array configured to
A junior architect you are coaching created the configuration shown for each array
What should you add to me configuration for each array to meet customer performance
requirements?

A. 32 additional SSD drives
B. SAS bus multiplexers
C. 4 additional disk enclosures
D. 1 additional pair of nodes
Answer:
D
Question 6
Refer to the exhibit.



A customer requests a quote tor an HPE 3PAR 9450 array. The customer will provision a single CPG
using RAID 6 (6+2) arx1 require caqe availability
What must De changed in the Bin of Materials shown to meet this requirement?

A. Add A HPE 3PAR 9000 24-disk 2U SFF (2 Sin) SAS Delve Enclosures.
B. Add an additional HPE 3PAR StoreServ File Controller v3 System
C. Change From Direct Connect to Daisy-chain cabling
D. Remove 2 HPE 3PAR 9000 2-port to GD Ethernet Host Pus Adapters.
Answer:
D
Question 7
A customer requires a 5 PB object storage solution across two sites.
Which storage solution meets this requirement1?

A. HPE Nimble StorageAF 80 4-array group
B. HPE with Scality RING on Apollo 4000 servers
C. HPE 3PAR 8450 d-node with File Persona
D. HPE SimpliVity 380. 16 node configuration
Answer:
A
Question 8
A customer's primary and OR datacenter are over 700 km apart. The customer wants to minimize
data loss during a OR failover, but is worried about the potential production IO performance impact
of replicating their data.
You recommend HPE 3PAR asynchronous replication.
Which key factor should you explain about the proposed solution?

A. Most writes are acknowledged as soon as they are performed on both the primary and secondary storage array
B. Host writes are acknowledged as soon as they are performed on the primary storage array
C. Host write latencies win increase
D. All writes are written to the target
Answer:
B
Question 9
A customer wants to upgrade an existing HPE 3PAR 7000 running HPE 3PAR OS 3.2.2. The customer
agrees to run an assessment.
What are the requirements to gather configuration and capacity data and/or performance statistics?

A. configured password-less SSM
B. enabled rest API interface
C. enabled Telenet protocol
D. configured FTP Server
Answer:
B
Question 10
A customers environment has.
one HPE 3PAR 9000 series funning OS 3.3.1. direct-connected to a single host
two HPE 3PAR 20000 series fc arrays recently upgraded to OS 3.2.2
The customer recently purchased a third HPE 3PAR 20000 series fc array running OS 3.2.2 and wants
to incorporate all four as Storage Federation members.
What should you do before implementing Storage Federation?

A. Change Direct connection to FC-based array
B. Upgrade arrays to match highest OS version
C. Install a Peer Motion License only on the 20000 series array.
D. Decommission the HPE 9000 series array.
Answer:
D