F5-Networks 301a practice test
BIG-IP LTM Specialist: Architect, Set up, Deploy Exam
Question 1
An LTM device is configure with the wildcard virtual servers displayed below.
A client connection is made to 172.24.31.14:443.

A. VS_172_24_1_WILDCARD
B. VS_HTTP_WILDCARD
C. VS_172_24_WILDCARD
D. VS_HTTPS_WILDCARD
Answer:
C
Explanation:
Match the network segment first and then port.

Question 2
An LTM Specialist creates an Analytics wide to show the type of browsers used to access a certain
application. However, the generated statistics only sum up all transaction for that application under
one item called Aggregated.
What should the LTM Specialist do to resolve this problem?

A. Verify that the Analytics profile is assigned to the applications virtual server.
B. Make sure ''User Agent'' is selected in the Analytics profile.
C. Drill down into the stats to show the User Agents correlated in the Aggregated group.
D. Make sure ''User Sessions'' is selected in the Analytics profile
Answer:
B
Question 3
An TLM Specialist has an Exchange that must use the LTM device to route traffic to the internet.
Which SNAT/NAT configure allows the Exchange servers traffic access the internet through the LTM
device?

A. NAT
B. SNAT Pool
C. SNAT List
D. SNAT Automap
Answer:
C
Question 4
A company plans to launch a huge marketing campaign and expects increase demand of their secure
website. With the current virtual server setup, the LTM Specialist expects that the LTM device will
reach its capacity limits. For the wen application to function properly. Cookies persistence is
required. The LTM Specialist needs to reduce LTM device load without breaking the application.
Which two settings should the LTM Specialist modify to meet the requirement? (Choose two.)

A. Remove HTTP compression profile
B. Remove HTTP profile
C. Remove web acceleration profile.
D. Modify virtual Server type to performance (Layer 4)
E. Remove ClientSSL profile
Answer:
A, C
Explanation:
It is required that cookie persist must be used and http profile must be used, and SSL offloading must
also be required. It must be in standard mode, excluding BD E.

Question 5
An LTM device an application that requires all connections to be secured via SSL The device must
verify that request contain a specific cookie before allowing the request to be sent to the pool
member.
Which virtual server type should an LTM Specialist configure on the LTM device?

A. Stateless
B. Performance (HTTP)
C. Standard
D. Performance (Layer 4)
E. Forwarding (IP)
Answer:
C
Question 6
Refer to the Exhibit.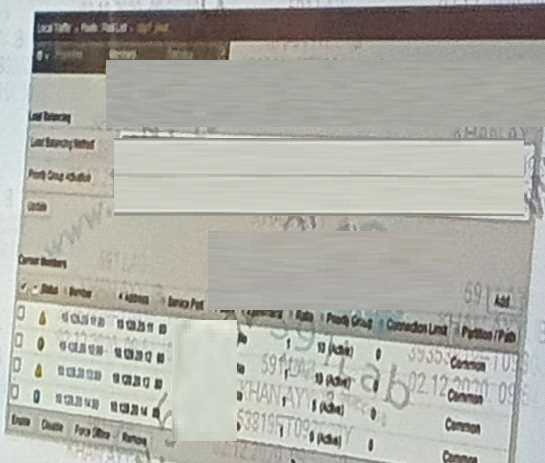 An LTM Specialist notices that two members in a pool are overloaded. To relive the existing members
a fourth member (10.128.20.14) is brought up.
How many member will receive and process new connections?

Answer:
C
Question 7
An LTM Specialist decides to offload SSL traffic on the LTM device instead of just passing it through.
The LTM Specialist needs to change the configure from a Performance (Layer 40 virtual server to a
Standard virtual server with SSL offload.
Which two element the LTM Specialist consider when performance this task? (Choose two.)

A. CPU load
B. Sensitive connections
C. Port exhaustion
D. Memory load
E. Connection mirroring
Answer:
A, D
Question 8
An LTM device needs to be configured a virtual server. The application requires SSL encryption from
the client to the server and an X-Forwarded-For added by the LTM device.
Which virtual server type should the LTM Specialist use?

A. Forwarding (IP)
B. Performance (HTTP)
C. Standard
D. Stateless
E. Performance
Answer:
C
Question 9
An LTM Specialist must reconfigure a BIG-IP system that load balances traffic to a web application.
The security department has informed the LTM Specialist that the following cipher string must be
used for TLS connections from BIG-IP to the web application.
NATIVE:IMDS:EXPORT:IDHE:[email protected]
In which virtual server profile should the cipher string be configured?

A. Server SSL CB. Client SSL
C. SPDY profile
D. Rewrite profile
Answer:
A
Explanation:
Require SSL and flow F5 to server, server ssl

Question 10
An LTM Specialist plans to enable connection mirroring for a virtual server in an HA environment.
What must the LTM Specialist consider before implementing the configuration change?

A. Impact on system performance that might be noticeable
B. The add-on license that is required for this feature to be available
C. Creating the required separate interface for connection mirroring
D. Decreased number of possible concurrent connections to that virtual server
Answer:
A
Explanation:
Connection mirroring will bring performance consumption