Dell-EMC e20-562 practice test
Storage Administrators VPLEX Specialist Exam
page 1 out of 5
Viewing questions 1-15 out of 66
Question 1
Refer to the Exhibit: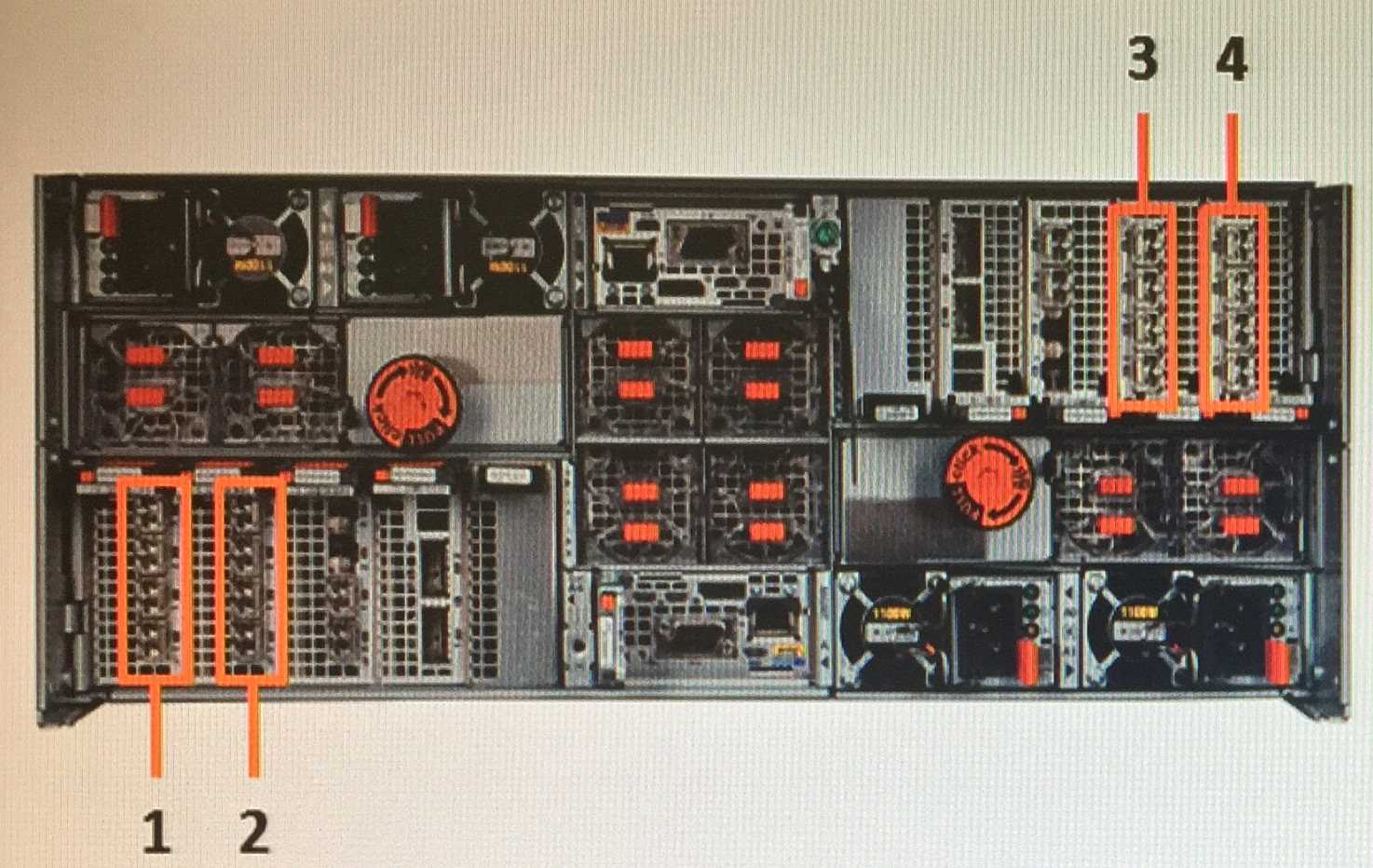 Which number in the exhibit highlights the Director-B front-end ports?

Question 2
Which data mobility operation removes the pointer to the source leg of a RAID-1 device?

A. Clean
B. Commit
C. Start
D. Remove
Question 3
What is required to add a RecoverPoint cluster to VPLEX?

A. RecoverPoint cluster ID
B. RecoverPoint cluster name
C. RecoverPoint cluster Management IP address
D. RecoverPoint cluster license number
Question 4
Refer to the exhibit.



Which displayed storage volume is available to be used for the creation of an extent?

Question 5
In preparing a host to access its storage from VPLEX, what is considered a best practice when zoning?

A. Ports on host HBA should be zoned to either an A director or a B director.
B. Each host should have at least one path to an A director and at least one path to a B director on each fabric, for a total of four logical paths.
C. Dual fabrics should be merged into a single fabric to ensure all zones are in a single zoneset.
D. Each host should have either one path to an A director or one path to a B director on each fabric, for a minimum of two logical paths.
Question 6
A storage administrator has been tasked with migrating a Microsoft SQL Server and its native EMC
VNX LUNs behind a VPLEX Local cluster. However, in planning for future application growth, the
database administrator wants to be able to expand the storage volumes.
Based on this information, which geometry should be selected during encapsulation?

A. Stripped MetaLUN
B. 1:1 Mapping
C. RAID-0
D. RAID-C
Question 7
Which command is used to display available statistics for monitoring VPLEX?

A. monitor stat-list
B. monitor add-sink
C. monitor collect
D. monitor create
Question 8
At which layer of the director IO stack are local and distributed mirroring managed?

A. Coherent Cache
B. Storage Volume
C. Device Virtualization
D. Storage View
Question 9
Which type of mobility is used to move data to a remote cluster in a VPLEX Metro?

A. Device
B. Extent
C. MetroPoint
D. Virtual volume
Question 10
Which command collects the most recent performance statistics from all VPLEX directors?

A. SNMPGETBULK
B. monitor stat-list
C. SNMPGET
D. monitor collect
Question 11
A storage administrator has been tasked with encapsulating 100 LUNs across five Oracle servers from
an existing array to a VPLEX Metro cluster. The administrator can obtain the same outrage window
for all five servers and wand wants to streamline as much of the encapsulation process possible.
What can the administrator use to help achieve this task?

A. SolVe Desktop utility
B. VIAS Provisioning Wizard
C. Claim Storage Wizard
D. storage-tool compose
Question 12
Which method of virtual volume expansion requires the volume to be expanded on the array first?

A. Extent expansion
B. Storage volume
C. RAID-C expansion
D. Concatenation
Question 13
Which mobility operation must be used to perform storage volume defragmentation?

A. Virtual volume mobility
B. Data mobility
C. Device mobility
D. Extent mobility
Question 14
DRAG DROP
What is the correct order of steps to create a virtual volume?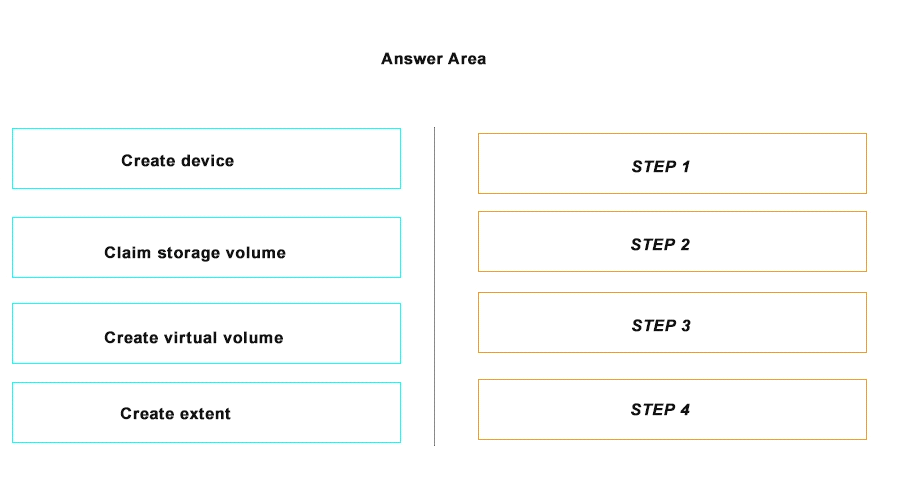 Answer: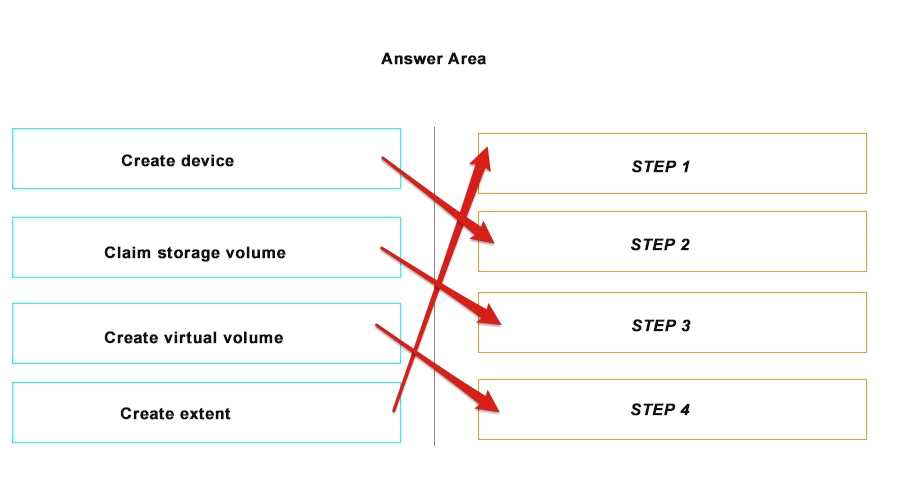 Question 15
What happens to global cache size if a director fails and is removed from the cluster?

A. Suspends
B. Increases
C. Decreases
D. Remains as-is