Dell-EMC des-1d12 practice test
Specialist - Technology Architect, Midrange Storage Solutions Version 2.0 Exam
Question 1
What is a benefit of restoring data from a Dell EMC Unity snapshot?

A. Can select which Consistency Group members have data restored
B. Supports replication to up to 32 remote systems
C. Enables efficient storage usage with 8 KB block granularity
D. Does not require additional pool storage
Answer:
D
Question 2
When sizing a Dell EMC Unity Hybrid array, what are considerations for growth?

A. Port utilization and load balancing
B. Cache utilization and hardware bottlenecks
C. Latency and queue depth
D. General capacity and active data
Answer:
D
Explanation:
Considerations for capacity growth
(click) Overall growth vs active data growth
(click) Moving or expanding hot blocks of active data
Longer term planning for growth

Question 3
Which Dell EMC Unity feature provides network high availability with active-passive ports when
provisioning File storage for a NAS client?

A. Redundant Interfaces
B. Preferred Interfaces
C. Link Aggregation
D. Fail-safe Networking
Answer:
D
Explanation:
Document: docu71319_dell-emc-unity-high-availability-a-detailed-review.pdf
Page: 20 FAIL SAFE NETWORKING (FSN) Dell EMC Unity OE version 4.2.1 introduces Fail Safe
Networking (FSN). FSN is a high availability feature that extends link failover into the network by
providing switch-level redundancy. FSN appears as a single link with a single MAC address and
potentially multiple IP addresses. FSN can consists of Ethernet ports, link aggregations, or any
combination of the two. FSN adds an extra layer of availability to link aggregations alone as link
aggregations provide availability in the event of a port failure while FSN provides availability in the
event of a switch failure. Each port or Link aggregation is considered as a single connection and only
the primary port or link aggregation in an FSN is active at a time. All ports in an FSN must have the
same MTU size, but the speed and duplex settings can vary.

Question 4
How are vVol datastores mounted in Dell EMC PowerStore storage during the creation of vVol
datastores in the vSphere environment shared by ESXi hosts?

A. Volume Groups
B. Storage containers
C. Storage Groups
D. VMFS datastores
Answer:
B
Explanation:
A storage container is used to present vVol storage from a PowerStore cluster to vSphere. vSphere
mounts the storage container as a vVol datastore and makes it available for VM storage. When a
PowerStore cluster is used to provide VM storage, user VMs should be provisioned on the vVol
datastores. The default storage container is mounted automatically on the nodes of the cluster.

Question 5
DRAG DROP
Match each Dell EMC Unity feature with its destination.


Answer:
None
Explanation: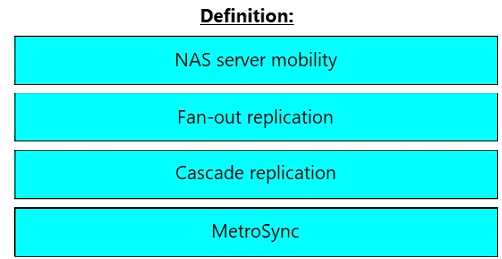 Reference:
https://www.delltechnologies.com/resources/en-us/asset/white-papers/products/storage/h15572-
dell_emc_unity-nas_capabilities.pdf

Question 6
To which bus is the Dell EMC Unity 880F DPE connected?

Answer:
D
Explanation:
The DPE on 480/F, 680/F, and 880/F systems is internally connected to Bus 99 which is a separate bus
than the first SAS expansion port that is connected to Bus 0. Therefore, the DPE is recognized by the
system as Bus 99 Enclosure 0 while the first DAE connected to the first SAS expansion port would be
Bus 0 Enclosure 0. This is different than X00/F, X50F, and 380/F systems. Furthermore, this means
that the twenty-five drives in front of the DPE for 480/F, 680/F, and 880/F systems are internally
recognized as Bus 99 Enclosure 0 Drive 0 Bus 99 Enclosure 0 Drive 24. In Unisphere, the drives are
seen DPE Drive 0 DPE Drive 24

Question 7
Which file resources are supported with Dell EMC Unity asynchronous replication?

A. File systems and LUNs
B. LUNs and VMFS datastores
C. NAS servers and NFS datastores
D. Consistency Groups and file systems
Answer:
C
Explanation:
Reference:
https://www.delltechnologies.com/en-us/documentation/unity-family/unity-p-
replication-config/02
- unity-rep-br-workflow.htm

Question 8
What is a consideration when sizing a Dell EMC SC Series system for capacity?

A. Read/Write ratio
B. IOPS
C. Page size
D. RAID overhead
Answer:
C
Question 9
What is the minimum recommended amount of Flash capacity in a Dell EMC Unity 880 Hybrid pool?

A. 5%
B. 8%
C. 10%
D. 15%
Answer:
A
Explanation:
Reference:
https://www.delltechnologies.com/en-us/collaterals/unauth/white-
papers/products/storage/h15093
- dell-emc-unity-best-practices-guide.pdf (16)

Question 10
From which Dell EMC storage system can a Dell EMC PowerStore array natively import data?

A. VNX
B. PowerVault
C. VMAX
D. VNX2
Answer:
D
Explanation:
Reference:
https://www.dell.com/support/manuals/en-my/powerstore-1000/pwrstr-
import/importing-external
- storage-to-powerstore-overview?guid=guid-6fef77c4-d4c9-49c6-8de2-
efd67aa52ca5#:~:text=Importing%
20external%20storage%20to%20PowerStore%20is%20a%20migration%20solution%20that,Dell%20E
MC% 20Unity%20Series