Dell-EMC des-1b31 practice test
Elastic Cloud Storage (ECS) Systems Administrator Exam
Question 1
An administrator has configured ECS to use NFSv3. What feature does this allow?

A. Global locking
B. Object storage access
C. Single protocol access
D. File gateway
Answer:
A
Reference:
https://www.emc.com/collateral/white-papers/h14071-ecs-architectural-guide-wp.pdf (15)

Question 2
How many disks are in a fully populated U-series DAE?

Answer:
C
Reference:
https://www.emc.com/techpubs/vipr/what_is_ecs_hardware-2.htm

Question 3
An organization decides to use Dell EMC Isilon CloudPools with ECS as the cloud storage target.
During initial integration, they discover that they are unable to create a cloud storage account.
What can be the reason for this issue?

A. Object local user is configured as namespace admin
B. Management user is configured as a User Admin
C. Incorrect cloud provider type selected
D. ECS bucket was already created
Answer:
C
Question 4
Which data encryption mode is supported by ECS?

A. SEC 17-A4
B. Standard CBC
C. GCM
D. RSA BSAFE FIPS 140-2
Answer:
B
Question 5
What technology is used in ECS to protect loss of a site in a two-site configuration?

A. Full Mirror Copy
B. Erasure Coding
C. XOR
D. Dual Parity
Answer:
A
Reference:
http://ucsexadatacloud.blogspot.com/2015/11/emc-ecs-features-and-functionality.html

Question 6
Which log file should you check if you suspect that an authorized user has been logging in to an ECS
system?

A. eventsvc.log
B. authsvc.log
C. resourcesvc.log
D. provisionsvc.log
Answer:
B
Reference:
https://www.emc.com/collateral/TechnicalDocument/docu86297.pdf (62)

Question 7
What can be used to monitor ECS events in the ECS Portal for periods of greater than 30 days?

A. ViPR SRM
B. Centera Console
C. Atmos Capacity Reporting
D. Data Protection Advisor
Answer:
A
Reference:
https://www.emc.com/collateral/TechnicalDocument/docu88138.pdf (48)

Question 8
An ECS administrator creates a bucket to be used by the NFS clients. The development team tries to
write some objects using the S3 browser on the bucket. They call the storage administrator to inform
them that they are experiencing write operation errors.
What is a possible reason for the errors?

A. Bucket is Read only
B. Object user needs write credentials
C. Base URL was not configured
D. Secret key used is not correct
Answer:
B
Question 9
DRAG DROP
What is the correct sequence of steps to configure a NetWorker CloudBoost with ECS solution?


Answer: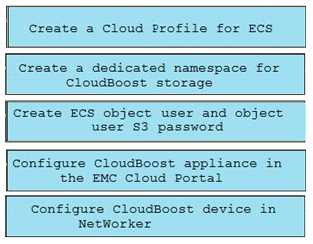 Question 10
An ECS is configured as backend storage for OpenStack Cinder. Which type of data will it store?

A. Disk and server images
B. OpenStack Swift client access information
C. Multimedia files
D. Volume data backups
Answer:
A