Dell-EMC dea-5tt1 practice test
Associate - Networking Version 1.0 Exam
Question 1
Which port type does a Dell EMC Networking N-Series switch have for its console connection?

A. DB9
B. RJ-45
C. USB A
D. USB B
Answer:
A
Reference:
https://downloads.dell.com/manuals/all-products/esuprt_ser_stor_net/esuprt_networking/
esuprt_net_fxd_prt_swtchs/networking-n3100-series_user%27s-guide10_en-us.pdf page 197

Question 2
DRAG DROP
What is the correct sequence of steps when a web browser accesses a web server?


Answer: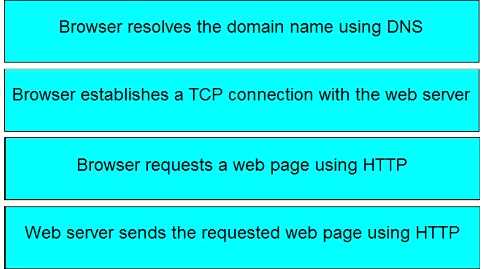 Question 3
A network administrator has a stack of four Dell EMC Networking S4800 Series switches. Each stack
unit is configured with a different priority. Which switch will be elected as the management device?

A. Switch with priority 0
B. Switch with priority 1
C. Switch with priority 14
D. Switch with priority 21
Answer:
B
Question 4
On which OSI layers do standard ACL filters operate?

A. 2 and 3
B. 2 and 7
C. 3 and 4
D. 4 and 7
Answer:
C
Question 5
What accurately describes the comparison between stacking and VLT?

A. VLT allows for more physical devices to appear as one virtual device than stacking does.
B. Stacked switches share a common control plane while VLT peers maintain their own control plane.
C. Stacked switches and VLT peers allow single pane of glass management by maintaining a single control plane.
D. Both VLT and stacking allow devices to use different versions of firmware provided that the switch family/ series is the same.
Answer:
B
Reference:
https://downloads.dell.com/manuals/common/dellemcnetworking_stacking_vs_vlt.pdf
Introduction
section

Question 6
Which IP address is in the Class B range?

A. 100.100.90.87
B. 126.16.20.48
C. 191.56.44.200
D. 192.15.48.130
Answer:
C
Question 7
Which route type is added to the routing table by a routing protocol?

A. Default route
B. Dynamic
C. Static
D. Directly connected
Answer:
B
Question 8
In which Spanning Tree protocol state does a port record MAC addresses but does not forward the
data?

A. Forwarding
B. Blocking
C. Learning
D. Listening
Answer:
C
Question 9
What accurately describes the Network Time Protocol (NTP)?

A. Implemented on a Dell EMC Network OS 6.
B. Time synchronization algorithms do not account for clock drift.
C. Client synchronizes among a set of distributed time servers.
D. Client makes sudden changes in time to keep synchronized.
Answer:
C
Question 10
What accurately describes OSPF?

A. Interior gateway link-state protocol
B. Exterior gateway distance-vector protocol
C. Interior gateway distance-vector protocol
D. Interior gateway path-vector protocol
Answer:
A