Dell-EMC dea-1tt4 practice test
Associate - Information Storage and Management Version 4.0 Exam
Question 1
An organization plans to deploy a deduplication solution in their data center environment They are
concerned about the application servers' performance and a long backup window during backups.
However, they want to retain their existing backup application.
Which deduplication solution(s) should be recommended?

A. Target-based deduplication
B. Source-based with variable-length deduplication
C. Source-based with fixed-length block deduplication
D. Source-based global deduplication
Answer:
B
Question 2
Why is it important for organizations lo deploy business continuity solutions in their data center
environment?

A. Avoid security risks that destroy the business data
B. Employ compliance requirements for data protection
C. Eliminate the time required for maintenance of IT resources in the data center
D. Reduce the cost of protecting data within and outside data centers
Answer:
B
Question 3
in a NAS environment, which file system provides a public or open variation of the Server Message
Block (SMB) protocol and uses the TCP/IP protocol?

A. Common Internet File System (CIFS)
B. New Technology File System (NTFS)
C. Network File System (NFS)
D. Hadoop Distributed File System (HDFS)
Answer:
A
Question 4
What is a function of a continuous data protection (CDP) appliance?

A. Migrates deduplicated data from the source volume to the target volume during replication
B. Manages both local and remote replications within and across data centers
C. Stores all data that has changed from the time the replication session started
D. Intercepts writes to the production volume and splits each write into two copies
Answer:
A
Question 5
DRAG DROP
Match the object-based storage device (OSD) features with their descriptions.


Answer:

Question 6
DRAG DROP
Match the Fibre Channel (FC) layers with their respective features.


Answer:

Question 7
Based on the exhibit, what does the "X" represent in the FCIP tunnel configuration?


A. E_port
B. EX_port
C. F_port
D. VE_port
Answer:
A
Question 8
What is an advantage of implementing file-level virilization in a data center environment?

A. Allows users the ability to only use a physical path to access files
B. Provides dynamic distribution of files across NAS clients
C. Provides non-disruptive file mobility across NAS devices
D. Provides the capability to access files from any device
Answer:
C
Question 9
Which type of zoning does the "X" represent?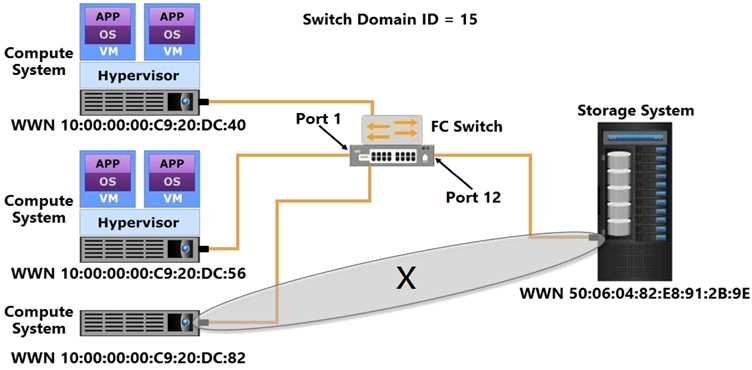 A. Fabric zoning
B. WWN zoning
C. Mixed zoning
D. Port zoning
Answer:
A
Question 10
An Ethernet switch has eight ports and all ports must be operational for 24 hours; from Monday
through Friday. However, a failure of Port 5 occurs as follows:
Tuesday = 6 AM to 7 AM Thursday = 5 PM to 9 PM Friday = 8 AM to 9 AM
What is the MTBF of Port 5?

A. 30 hours
B. 32 hours
C. 40 hours
D. 38 hours
Answer:
C
Reference:
https://www.sqconline.com/mtbf-calculator-results