cisco 640-692 practice test
CCT Routing & Switching
Question 1
Which interface card is an encryption module?

A. NME-VMSS-16
B. NME-CUSP-522
C. AIM-VPN/SSL-3
D. M-1A-OC3-POM
Answer:
C
Question 2
What are two ways to open Microsoft Notepad on a Windows-based computer? (Choose two)

A. Start > Run Enter Notepad and 'Ink OK
B. Start > Control Panel > Notepad
C. Start > All Programs > Notepad
D. Start > All Programs > Accessories > Notepad
E. Start > All Programs > Microsoft Office > Notepad
Answer:
A D
Question 3
Which three of the following statements are true about a router? (Choose three)

A. It forwards broadcast frames.
B. It interconnects multiple networks together.
C. It chooses the best route for your data to travel.
D. It manages and analyzes a company's database.
E. It divides a network into separate broadcast domains.
Answer:
B C E
Question 4
Which command initiates the transfer of a Cisco IOS image over IP from ROMMON?

A. copy tftp: flash:
B. copy flash: tftp:
C. tftpdnld
D. xmodem
Answer:
C
Question 5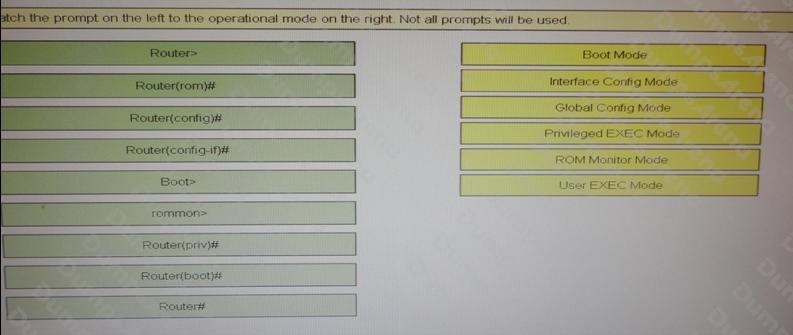 Answer: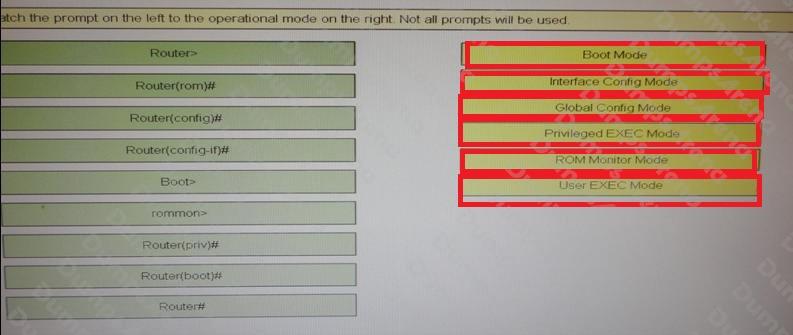 Explanation:
The correct answer is:
Router(boot)# Router(config-if)# Router(config)# Router# Rommon> Router>

Question 6
Which router can be used for disk-in-access to the router CLI management purposes and does not usually pass normal
network traffic?

A. AUX
B. Gigabit Ethernet
C. Fast Ethernet
D. Channelized serial
Answer:
A
Question 7
Which type of memory stores the startup configuration file for the Cisco device?

A. Flash
B. NVRAM
C. RAM
D. ROM
Answer:
B
Question 8
Refer to the exhibit.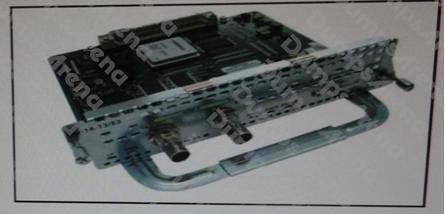 Which type of cable us used on the ATM card?

A. Fiber-optic BNC
B. Coaxial
C. Serial
D. Crossover
Answer:
B
Question 9
Which command can be used to identify the serial number of a Cisco router?

A. Show run
B. Show version
C. Show archive
D. Show environment
Answer:
B
Question 10
Which IEEE standard protocol is initiated as a result of successful DTP completion in a switch over Fast Ethernet?

A. 802.3ad
B. 802.1w
C. 802.1D
D. 802.1Q
Answer:
D