Avaya 33810x practice test
Avaya Aura Contact Center Solution Design Exam
Question 1
Different CPU and RAM requirements for virtual machines are specified How many Resource Profiles
are defined In a virtualized AACC?

Answer:
A
Question 2
Refer to the exhibit.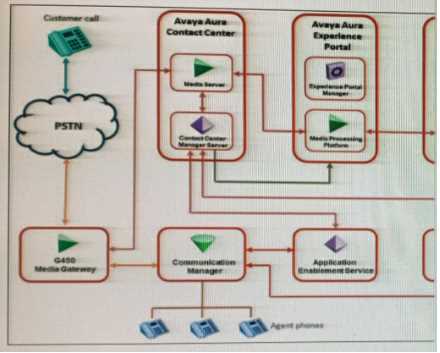 AACC routes contacts based on business logic to any SIP addressable endpoint.
Which statement about AACC Voice Contact is true?

A. It Is anchored In the Media Processing Platform.
B. It Is anchored In the G450.
C. It Is anchored In the Media Server.
D. It Is anchored in the Session Manager.
Answer:
D
Question 3
AACC has an inbuilt Outbound Management.
Which resource controls the Preview Dialing method?

A. Manager
B. Administrator
C. Supervisor
D. Agent
Answer:
C
Question 4
Media Servers are needed in a SIP-enabled AACC
Which deployment allows the co-resident installation of Voice and Multimedia Contact Center with
Media Server?

A. Physical Mid-Range Server
B. Physical Entry-Level Server
C. VMware Mid-Range Server
D. VMware High-End Server
Answer:
A
Question 5
A support manager experienced that each Voice Contact runs through an application designed with
the Which service controls the pathway through the application?

A. Task Flow Executor (TFE)
C. SIP Gateway Manager (SGM)
D. Telephony Services Manager (TSM)
Answer:
D
Question 6
A design specialist has scheduled his first discovery conversation with a customer.
Which three factors would the specialist be able to address with the customer? (Choose three.)

A. Uncertainty
B. Fear
C. Doubt
D. Anxiety
E. Worry
Answer:
BCE
Question 7
Licenses are needed to allow service for a SIP enabled Contact Center. In which two locations can the
license information located? (Choose two.)

A. Standby License Manager
B. Local WebLM license file
C. Remote WebLM server
D. Remote license file
Answer:
AB
Question 8
A customer needs an application that is provided free of charge, and allows them to reduce the time
required to develop and maintain scripts, workflows, and applications in the Avaya Aura Contact
Center.
Which application will meet the customer's requirements?

A. Avaya Control Manager
B. Avaya one-X® Agent Desktop
C. Avaya Agent Desktop
D. Avaya Contact Center Orchestration Designer
Answer:
C
Question 9
The Security Manager of the IT department wants to know about the Web Services Security of AACC.
Which requests are used by default to access Manager Administration?

A. HTTP
B. FTPS
C. HTTPS and FTPS
D. HTTPS
Answer:
D
Question 10
The SIP-enabled AACC Communication Control Toolkit integrates the agents and supervisors within
the SIP environment to offer features.
Which application programming interface type is used to publish the CCT functions?

A. Microsoft .NET
B. Open Database Connectivity (ODBC)
C. Open Computing Language (OpenGL)
D. Simple Direct Media Layer
Answer:
B